Frequently asked questions
How would you describe your writing process?
---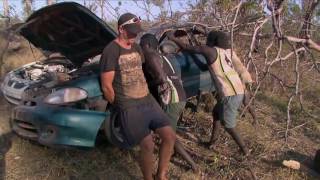 My entire writing process is best described by this clip from the Australian television series Bush Mechanics. Does the poem need an oil cap? We're using a plastic doll's head. Does the short story have any gas in the tank? Doesn't matter; we are going to scavange for it. We're driving out of here. Today.
---
Where can I read your work?
---
Books
The Meanest Things Pick Clean

, Floating Bridge Press (October 2017)

After Our Departure

, winner of the 2016 Powder Horn Prize from Sage Hill Press (October 2016)

Dear Ron

[chapbook of epistolary prose poems addressed to Ron Swanson from the television series Parks and Recreation]
Poems
"Light's Ninth Inning" and "Rail Yard's Eyesore,"

The Pinch

37.1
"Wandering Folk Under Sheltering Trees,"

Prick of the Spindle

"The Sentence Level's Your Matter of Opinion," and "My Inside Voice Is Your Matter of Opinion," West Branch 78
My Dear Library poem sequence, 2015 Summer Library Series, What She Might Think
"Out of Your Body's Your Matter of Opinion," DIAGRAM 14.5
"Looney #1," Journal of Compressed Creative Arts (2014)
"Tanker No. 1026," "Woman Trapped in Landscape" [hybrid form works]

Seneca Review

"Beyond Category" issue
"After Our Departure," "An Offer to Ghosts" Prick of the Spindle print edition issue six
"Sliced"

Midwestern Gothic

(10)
"Nesting Song," and "Humans Taken Hostage in Dog Park"

Stone Highway Review

(2.3)
"[Spring kinks its shiv]"

Verse Daily

(2013)
"The Art of Sex Talk"

Sentence

(10)
3rd place winning entry in the 2012 Atty Award contest (judged by Margaret Atwood), published on Wattpad
Contribution to

To the Stars Through Difficulties: A Kansas Renga in 150 Voices

"[Spring kinks its shiv]"

Parcel

(2.2)
"To Understand Chinese New Year" and "Bicycle Circumlocution in Tianjin"

seveneightfive magazine

(July 2012)
"Tide Charts, Meier's Quarry," 2nd place winner of the

Prick of the Spindle

Poetry Open Competition No. 2 (July 2012)
"Terraforming Mars" [reprint] Rhysling Award Anthology (2012)
"January 31st, 1955" and "[Unlabeled]"

Midwestern Gothic

(4)
"1964"

DMQ Review

(fall 2011)
"Terraforming Mars"

Abyss & Apex

(July 2011)
"Newton's First Copy of Euclid"

Stone Telling

(3)
"Luke Chapter Eight Versus the Mundane"

The Stinging Fly

(spring 2011)
"Different Species in Hen Houses," "Migration Patterns," and "The Tradition"

Prick of the Spindle

(4.4)
"Distillation," "Medical Records of Strangers," and "Stubborn, Unmarked Trails"

Blue Island Review

(1)

Sarah! Sarah! Sarah!

[ 6 poems], NFDU Projects (summer, 2010)
"Little Emperors, Little Invaders"

Sentence

(8)
"Dick's First One"

Fract/ons

(1)
Fiction
"Something Follows," Spokesman Review Summer Stories series (Summer 2017)
"A Cuspid Made of Gravel"

Crab Creek Review

(Fall 2016)
"Outside, Bright Lights" chosen by guest editor Nuala Ní Chonchúir for

The Stinging Fly

special Flash Fiction Showcase (Spring 2014)
"Ad Hoc Hurricane Correspondent"

Johnny America

(November 2013)
"Red Flags and the Dane"

Pure Francis

(December 2010)
---
---